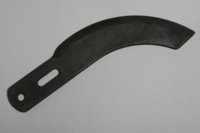 blade
Agricultural
Metal Forming for Agricultural Uses – Industrial Forging, Stamping, and Casting
The agricultural industry requires implements that are strong, economical, and can withstand frequent physical strain. Industrial forging is frequently used to manufacture components for the agricultural industry, as the grain development that occurs during the forging process provides a high level of strength for the finished products. Metal stamping and casting may be used for manufacturing of select agricultural elements as well.
Whether components are created using industrial forging, stamping or casting processes, metal products developed for the agricultural industry are expected to be durable and cost effective. Many parts will undergo heat treatment or specialized finishing to ensure superior wear resistance and long life. Agricultural products can range from engine and transmission parts to cultivator shafts and hand tools.
Agricultural products manufactured by industrial forging, casting, or stamping are available from dependable partners in both the United States and China. Compass & Anvil facilitates the sourcing process between our clients and the metal forming companies that are manufacturing the desired products.
Contact us today at (408) 205-1319 (Pacific Time) or email us for a no obligation quote or to request additional information about metal forming processes for the agricultural industry.