Automotive Castings for OEM and Auto Aftermarkets
Automotive Casting, Forging, and Stamping Products
Compass & Anvil provides sourcing for a variety of products that can be used in the automotive industry. The relationships that we have developed with a variety of manufacturers allow us to accommodate a broad range of volume needs for Original Equipment Manufacturer (OEM) markets as well as the auto aftermarkets.
Compass & Anvil understands the challenges that face manufacturing businesses. We are dedicated to representing our customers' needs throughout the sourcing process. We work with ISO/TS16949 technical specifications for quality management and in accordance to the regulations that are essential to the automotive industry. Compass & Anvil also works with our clients on providing billing flexibility and timeline sensitivity to make production feasible.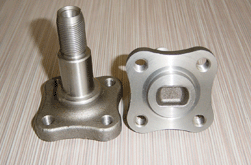 Sourcing for parts developed by automotive casting, forging or stamping is available from a number of reliable partners in both the United States and China. Compass & Anvil facilitates the communication between our clients and the manufacturing companies that specialize in forgings, castings, stampings, and other machined parts.
Contact us today at (408) 205-1319 (Pacific Time) or email us for a no obligation quote or to request additional information about automotive casting processes.