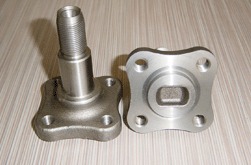 Automotive Manufacturing for OEM and Auto Aftermarket Parts
High-performance automotive vehicles require high-performance components and parts. Compass & Anvil has developed long-standing relationships with a variety of trusted automotive manufacturers dedicated to producing the volume needs for Original Equipment Manufacturer (OEM) and auto aftermarkets.
Metal Manufacturing Processes for OEM and Auto Aftermarket Components
We provide sourcing for a wide range of components used in the automotive industry. Our manufacturing partners include trusted manufacturers in the US as well as China. We work with ISO/TS16949 technical specifications for quality management and in accordance with the regulations that are essential to the automotive industry.
Automotive manufacturing methods we specialize in, include the following processes:
Die casting provides precision cast components, adhering to tight tolerances with the capability to produce complex parts.
Suitable for automotive gears and shafts, metal forged components offer you the strength and ruggedness needed for a wide range of automotive uses.
Metal stamping is an efficient manufacturing process well-suited for automotive sheet metal parts and components. Stamping can be used for mechanical elements as well as structural elements for car sheet metal applications.
Extrusions provide a versatile way to manufacture high-strength automotive profiles. From pillar supports to framing, extrusions can meet industry safety and regulatory demands.
Common Automotive Component Materials
Regardless of the manufacturing process you choose, automotive components can be manufactured using a wide range of materials, including:
Automotive Castings from a Full-Service Metal Manufacturing Sourcing Supplier
Compass & Anvil works with our clients on providing billing flexibility and timeline sensitivity to make production feasible. We are dedicated to representing our customers' needs throughout the sourcing process. As a full-service sourcing supplier, we also offer the following advantages:
Over 30 years of automotive industry knowledge
Ability to meet pricing and spec requirements
Fast turnaround times
Exceptional customer service (full facilitation of process)
Discuss Your Automotive Manufacturing Needs with Us
Request a quote or call us at (408) 205-1319 (Pacific Time). Discuss your automotive OEM and aftermarket parts needs with us today.