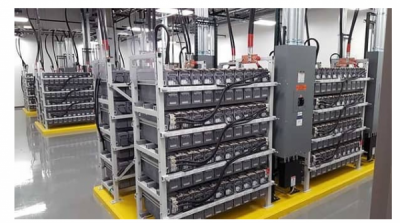 Reliably Sourced Battery Energy Storage Systems for Data Centers
Data centers require massive amounts of power, usually supplied by lithium-ion batteries with high energy density and long life-cycle durability. These types of batteries can be found in server rooms and data centers and are housed in high quality metal storage systems, such as racks and enclosures. Compass & Anvil has developed 40+ year relationships with both domestic and international manufacturers who can create custom storage solutions to ensure maximum performance and efficiency of your energy systems.
Source Custom Lithium-Ion Battery Storage Systems from an Experienced Manufacturer
Compass & Anvil is a global sourcing agent dedicated to providing high quality metal components for a number of industries. We will facilitate your project from start to finish, leverage our long-standing global connections and extensive industry experience to deliver manufacturing solutions in accordance with your specifications, schedule, and budget. Contact us today to begin discussing your battery storage requirements.
Custom Battery Storage Racks & Enclosures for Data Centers
Lithium ion battery storage systems are engineered to provide optimal airflow, efficient cable management, and allow for easy access to equipment. We can source custom battery storage units and storage unit parts to meet the requirements of your data center, including but not limited to:
Insulated & non-insulated battery enclosures
Battery storage racks & shelves
Hinged doors with locking latches
Frames for doors
Housings for cables & wires
Battery Storage System Manufacturing Methods & Materials
Battery enclosures and storage racks come in a variety of shapes, sizes, and materials. Our manufacturers employ a range of metal forming processes to create custom units in accordance with your specifications. Common materials and processes used to create battery storage systems include:
Battery Enclosure Manufacturing Methods:
Battery Enclosure Materials:
Benefits of Sourcing Your Lithium-Ion Battery Storage Units
Compass & Anvil can connect you with a manufacturer to meet all your design, budget, and schedule requirements. We will act as a representative for your needs throughout all stages of production, from prototyping, to development, to shipping and fulfillment. As a full service sourcing supplier, we can offer the following advantages to your custom battery storage system project:
Over 30 years of experience across a range of industries
Ability to meet pricing and spec requirements
High quality prototypes sourced from the largest provider in the U.S.
Exceptional customer service with individualized sourcing services
Network of domestic & global ISO9001 certified manufacturers
Contact Compass & Anvil Today to Outsource Your Battery Storage Manufacturing Project
Request a quote today or call us at contact us to discuss your battery storage needs.