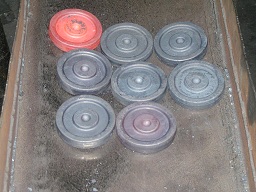 Onshore Outsourcing vs Offshore Outsourcing
Outsourced Manufacturing Services Tailored to Your Product, Price, and Production Schedule Needs
Compass & Anvil maintains long-standing relationships with both domestic and foreign sourcing partners to supply competitively priced, high quality metal products to our customers in a variety of industries. We facilitate communication and negotiation at all stages of the procurement process to ensure the parts and components you receive match your exact specifications.
Read more about the specific services we frequently outsource for our customers, including casting, extruding, metal stamping, injection molding, and forging. Visit our image gallery to view samples of projects we facilitated.
Advantages of Sourcing Your Metal Manufacturing Project
Access to the latest innovations & technologies
Less time spent vetting & negotiating with manufacturers
Ability to meet stringent cost & scheduling demands
Access to a wide network manufacturers with varying capabilities
Increased efficiency to keep your business competitive
Sourcing Location Can Impact Your Bottom Line
When it comes to sourcing various parts, there is a delicate balance between adhering to budget restraints and securing what you need in an allotted timeframe. At Compass & Anvil, our customers benefit from our diverse network of pre-vetted, domestic and international metal forming manufacturers, each with decades of experience producing high quality parts for a range of industries. Work with us, and receive access to a unique mix of capabilities to ensure you don't have to compromise on your needs.
Benefits & Drawbacks of Domestic Sourcing vs International Sourcing
| | | |
| --- | --- | --- |
| Factors | Domestic Sourcing | Global Sourcing |
| Material Selection & Availability | A large selection of standard and exotic materials are available | Standard materials are available but there may be limited access to exotic materials |
| Timing for Production & Delivery | Shortened communication and delivery times allow for accommodation of short production schedules | Time zone differences, language barriers, & overseas deliveries lengthen production schedule accommodation |
| Tooling & Labor Costs | Domestic workers tend to command a higher rate compared to global manufacturers | Global manufacturers usually charge less for the same services. Cost-effective option for higher volumes |
| Quality Control | Increased oversight throughout the production process. Changes can be implemented without significant delay | Highly skilled workers & access to innovative technologies rival that of what's available in the U.S. |
Outsource Production from Highly Vetted Metal Forming Manufacturers
A major concern for any company looking to outsource production is finding a manufacturer who is both reliable and possesses the equipment and capabilities to accommodate non-negotiable requirements. With partnerships that span more than 40 years, Compass & Anvil has the connections and resources necessary to ensure you receive products tailored specifically to your designs, budget, and timeline. Whether you choose to source onshore or offshore, our quality guarantee ensures the products you receive meet or exceed all applicable industry standards and specifications, or your money back. Contact us today for a free, no obligation consultation.
Contact us today at (408) 205-1319 (Pacific Time) or email us for a no obligation quote or to request additional information about domestic or Asian sourcing opportunities.