Industrial
Casting, Forging, and Stamping for Industrial Applications
Compass & Anvil serves a number of industrial clients that require custom components for the production of their end user products.  Compass & Anvil can assist industrial clients in their product development process, materials identification, manufacturability analysis, proposal and negotiations for sourcing, and schedule enforcement. By facilitating the sourcing process, Compass & Anvil can help you identify the best manufacturing partner to produce the components in a timely and cost effective manner.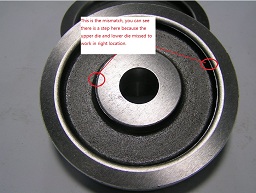 Industrial clients will benefit from Compass & Anvil's understanding of the many challenges that face small to mid-sized manufacturing businesses. We focus on making operations feasible for our clients by offering flexible financing and order size accommodation.  Our sourcing partners adhere to technical qualifications and regulations for their respective industries to guarantee that your orders meet specifications and quality requirements.
Contact us today at (408) 205-1319 (Pacific Time) or email us for a no obligation quote or to request additional information about casting, forging, and stamping for industrial applications.