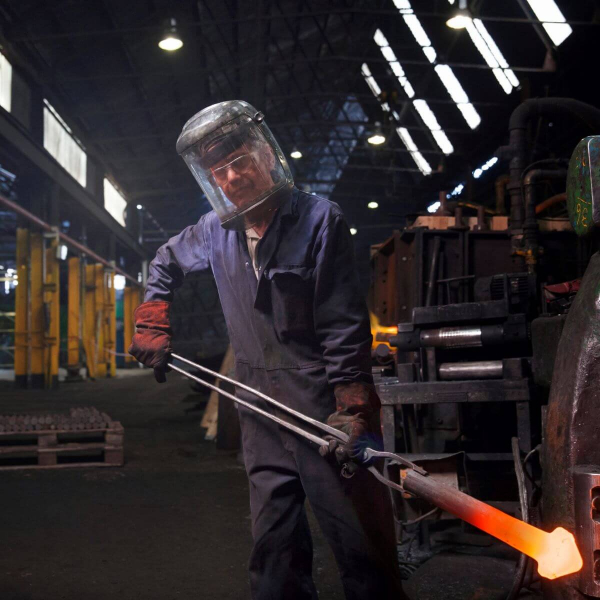 Upset Forging Outsourcing Services
Compass & Anvil can connect you with an upset forging manufacturer to meet all your budget, design, and scheduling requirements. With manufacturing partners both in the U.S. and abroad, we can provide you with custom forged products that meet or exceed the standards for any industry or application.  
Your #1 Sourcing Authority for Upset Forging Services
As a leading global sourcing company for over 30 years, Compass & Anvil is well-equipped to provide you with high quality, competitively priced upset forging services tailored to your exact specifications. We facilitate all projects from design through fulfillment to ensure you are satisfied with the result, or your money back. Request a no-obligation quote today to begin discussing your upset forging needs.
What is Upset Forging?
Also known as metal upsetting, upset forging involves heating a metal bar between two dies, then proceeding to form it into the desired shape. This process is ideal for creating long metal parts with a forged end. Upset forging does not allow for much variation between the bar's initial diameter and the forged head diameter. It can, however, achieve highly complex geometries when carried out over several stages.
Benefits of Metal Upsetting
Able to form multiple pieces quickly
Components exhibit extremely high strength
Overall integrity of components is maintained
Creates components that are resistant to deformation or breakage
Saves on materials and costs
Materials & Applications for Upset Forging
There are many different materials used in upset forging, among them carbon steel, stainless steel, aluminum, and nickel alloys. Common upset forging applications include:
High strength bolts & screws
Engine valves and shafts
Couplings
Piston rods
Automotive parts
Find an Onshore or Offshore Manufacturer to Meet Your Upset Forging Needs
Benefits of Outsourcing
Are reduced costs a main priority for your project? Fast turnarounds? Access to exotic materials? Very rarely are companies able to find a manufacturer with the capabilities to accommodate all their requirements. This is where a sourcing authority like Compass & Anvil can help. We work with 1:1 with several onshore and offshore manufacturers each day to provide the products and services our customers need at prices they can afford.
How it Works
Once you request a no-obligation quote, we will contact you as soon as possible to begin discussing the details of your upset forging project. From there, we will select a domestic or international manufacturer who can meet your specific design, budget, and turnaround requirements. Don't waste valuable time vetting and negotiating with manufacturers. Rely on the experts at Compass & Anvil to do the hard work for you.
Custom Upset Forging Services Tailored to Your Unique Requirements
Join the network of companies across the country who rely on Compass & Anvil to simplify their product manufacturing needs. Request a free, no-obligation quote today, and we will connect you with a manufacturer to handle your upset forging project from start to finish. We also offer sourcing services for other forging processes, including steel forging, aluminum forging, and open and closed die forging. Contact us for additional information.