Extrusions
Precision Custom Aluminum Extrusion Sourcing Services
With its corrosion resistance and high strength-to-weight ratio, aluminum extrusions are ideal for industrial and commercial structural and architectural applications. The ductility and flexibility of aluminum alloy offer design capabilities for a wide range of applications.
Get high-quality precision custom aluminum extrusions from a trusted, reliable sourcing servicer. Compass & Anvil facilitates orders for custom precision extrusions that will meet your custom requirements and exceed your expectations. 
Aluminum Extrusion Process
The aluminum extrusion process begins with the design of the extrusion profile and the identification of production parameters. After the design phase is completed, a custom die is created to reflect the desired profile for the extrusion. Aluminum extrusions generally use steel dies.
Aluminum billet is heated and monitored carefully for proper temperatures throughout the extrusion process. The heated billet is placed in the extrusion press where it is forced through the steel die openings using a hydraulic ram.
Factors to Consider for Aluminum Extrusions
Material selection
Weight to length ratio
Intricacy of extrusion profile
Number and size of die cavities
Thickness of extrusion walls
After passing through the die, the extrusions are cooled, shaped, and cut to reflect order specifications. Required hardness is achieved with a final heat treatment that "ages" the material in an abbreviated period. After reaching the desired material hardness, extrusions can undergo additional finishing and/or processing or may be sent on to the customer for use.
Advantages of Aluminum Extrusions
Aluminum extrusions are durable and malleable, well-suited for a vast array of manufacturing engineering purposes. Additional advantages of aluminum extrusions include:
Strength
Lightweight
Thermally conductive
Electrically conductive
Non-magnetic
Corrosion resistant
Can be painted, polished, plated, or anodized
Inexpensive tooling
Eco-friendly/recyclable
With our experienced aluminum extrusion manufacturers, we can get prototypes or high-volume production runs to market quickly with short lead times.
Common Alloys for Aluminum Extrusions
Selecting the best aluminum alloy for your extrusion can help to ensure the success of your design. With high levels of corrosion resistance and formability, aluminum alloys are successfully used for extrusions in a variety of applications. Compass & Anvil can ensure you have access to a variety of aluminum alloys for your precision extrusions.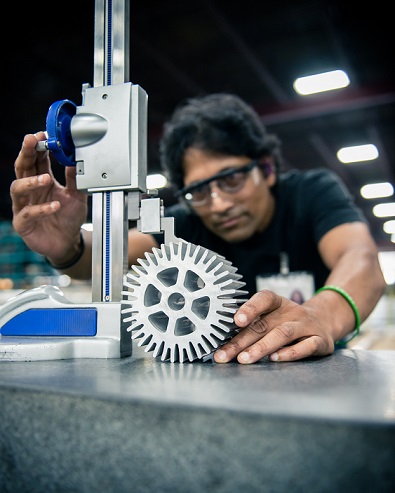 Available aluminum alloys for custom extrusions include:
1050
6005A
6061
6063
6351
6360
6463
and various other 1000 and 6000 series aluminum alloys
Applications for Aluminum Extrusions
Aluminum extrusions are widely used across industrial and commercial applications. Common applications for aluminum extrusions include:
Automotive components
Heating and cooling for electronic components and equipment
Housing for cables and wires
Construction applications
Architectural purposes
Electrical fixtures
Aerospace and transportation
 LED Aluminum Extrusions
With the emergence of LED lighting, aluminum extrusions offer thermal management needed for LED lighting applications. Due to its excellent thermal and electrical conductivity, aluminum channel extrusions are ideal for LED strips and custom LED applications.
Aluminum Extrusions for Solar Panels
The lightweight properties and corrosion-resistance make aluminum extrusions well-suited for solar panels and solar panel support applications.
Let Us Help You Find an Aluminum Extrusion Manufacturer
Call us at 408-205-1319 or request a quote and get started on an aluminum extrusion project today.