Medical
Metal Forming Applications for the Medical Industry

Compass & Anvil facilitates sourcing for a number of products that have been designed and manufactured to meet the rigorous regulations and specifications of the medical industry. Metal stamping, forging, and die casting applications have all been utilized for the production of medical equipment and components.
Compass & Anvil partners with metal part manufacturers that meet ISO 9000 Certification, ensuring consistency and quality of all components. We understand the medical industry's needs for specific materials and finishes and have developed relationships with metal forming companies both domestically and in China that match or exceed all requirements.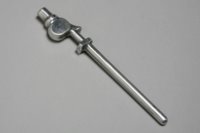 Medical forging, stamping, and die casting applications may also be sourced from a number of reliable partners in both the United States and China. Compass & Anvil facilitates the communication between our clients and the manufacturing companies that specialize in forgings, castings, stampings, and other machined parts.
Contact us today at (408) 205-1319 (Pacific Time) or email us for a no obligation quote or to request additional information about metal forming applications for the medical industry.